WMBL Red Sox
---
Red Sox 2012 from Kent Morrison on Vimeo.
Baseball Regina Alumni lead RedSox to second straight WMBL Title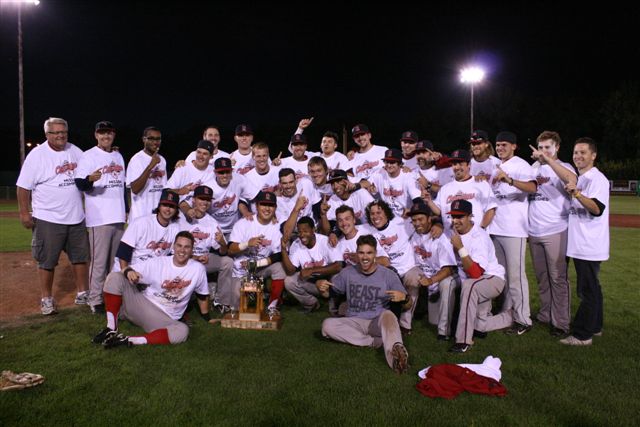 The Regina RedSox defeated the Medicine Hat Mavericks 3 games to 1 to clinch the 2012 title. After a season of record crowds the RedSox won game 4 by a 7-3 score in front of a packed house in Medicine Hat. Baseball Regina grads were Mitch MacDonald, Geoff MacDonald, Landon Adelman, Justin Eiswirth (coach) Ryan Brezinski, Chris Untereiner and Jarret Duchscher.
MacDonald Has first Triple Crown Year in WMBL History
A trip to the WMBL Finals, a Triple Crown award - and now, a league MVP award. Mitch MacDonald put an exclamation point on his historic 2010 Western Major Baseball League season by being named the Old Dutch League MVP on Sunday, becoming the first Regina Red Sox player to win the award.The Regina product was also named to the WMBL 1st All-Star team.
In 36 games, MacDonald led the league in batting average (.476), homeruns (8) and runs batted in (48), and became the first WMBL Triple Crown winner in league history.
"Individually, I was fortunate to have a great season," said MacDonald. "But I've said it before and I'll say it again, having great hitters around you really allows you to focus on your at-bat and not worry about anything else."
MacDonald was certainly surrounded by remarkable talent in 2010. David Fox, the Red Sox right fielder, was also named to the 1st All-Star team.
While MacDonald and Fox enjoyed individual success, the Red Sox as a team also enjoyed their most rewarding season in franchise history. The team made a trip to the WMBL Finals for the first time, and also eclipsed the 1,200 fan mark at Currie Field in a Game Five playoff win over Moose Jaw.
About the WMBL
The Western Major Baseball League (the "WMBL") is Canada's pre-eminent summer collegiate baseball league. The WMBL boasts a long standing tradition of creating a showcase for top Canadian professional and college prospects while at the same time offering American college players the opportunity to hone their skills in front of enthusiastic baseball fans in towns and cities throughout the Prairies.
Since joining the league in 2005, the Sox have made a steady climb to the upper echelon of the WMBL. Baseball Regina has been a strong and proud contributor to the WMBL and the Regina Red Sox.
Players' Graduating year from Baseball Regina;
2013 Jordan Schulz, Jeremy Sylvester, Brandon Radmacher, Jager Toffan, Kendal Daniels
2012 Aiden Marquardt
2010 Tyler McWhirter, Gilles Virgin
2009 Ryan Tulloch, Geoff MacDonald, Landon Adelman, Ryan Brezinski, Chris Untereiner
2008 Taylor Hinger
2007. Shawn Wilyman, Brendan Sirup, Jp Wilner, Eric Bryce
2006 Cory Hall, Jesse Pentz, Kal Whiting
2005 Mitch MacDonald, Brett Saftner, Nolan Bracken, Ian Mahnic
2004 Justin Eiswirth, Josh Herbach-South, Shane Beddoes, Rhett Reinhart , Teale Orban
2003 Tanner Brotzel , Brandon Legard, Mike Felgate, Dustin Paquette
2002 Jay Livingston, Kip Simon, Pancho Beskowiney
Baseball Regina Alumni lead Red Sox to 2011 WMBL Championship!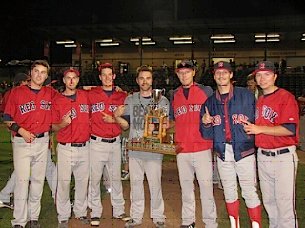 (L-R) Geoff MacDonald, Tyler McWirter, Landon Adelman, Mitch MacDonald, Justin Eiswirth, Shawn Wilyman and Ryan Brezinski (missing) Taylor Hinger, Gilles Virgin, Jamie Good, Chris Untereiner and Cory Hall
For the first time in franchise history, the Regina Red Sox are the Western Major Baseball League champions.
The team beat the Okotoks Dawgs 7-3 on Saturday to win its best-of-five series three games to one.
The Red Sox got all seven runs in the 6th inning, lead off by an off the wall double by Mitch MacDonald . The Dawgs scored once in the 5th and twice in the 8th in the game played in Seaman Stadium before a sellout crowd of 3,678.